Product Description
Accurate AI Face Detection & Thermometer Camera

Product introduction
Question
What are the advantages of Sanan's new Face Recognition Thermometer?
Answer

Sanan's new Face Recognition Thermometer (also called the Face Identification, AI Face Recognition, Face Recognition Identification, Face Recognition Thermometer, AI Face Recognition Camera, and Face Recognition Infrared Thermometer) is actually the Access Control with the Face Recognition and Body Temperature Detection functions, which is specially suitable for the screening, prevention, and control of the COVID-19.
Why choose us?
1. Worrying about the crowd gathering detection risk?
Sanan's AI Face Recognition Thermometer not only supports the intelligent face recognition but also the mask detection, thus we don't need to take off our masks during the detection, which can greatly decrease the COVID-19 and other pandemic virus infection risks when breathing;
2. Worrying that someone may use his/ her photo to cheat the machine, and then escape from the attendance and the body temperature screening?
Sanan's AI Face Recognition Thermometer supports the live body judgement, which makes those cheating behaviors fail on this AI Face Recognition Thermometer;
3. Worrying that the body temperature detection function may take the extra space and make the machine larger?
Sanan's AI Face Recognition Thermometer has the built-in temperature detection module, which makes it own the body temperature detection function without changing the former dimension;
4. Worrying that it takes too much time on detection or the detecting temperature is not accurate?
Sanan's AI Face Recognition Thermometer owns the excellent performance such as the 0.1s super fast reaction, super accuarte temperature detection like the mercury thermometer.
5. Sanan's AI Face Recognition Thermometer has the voice alarm function, which makes the fever person soon found.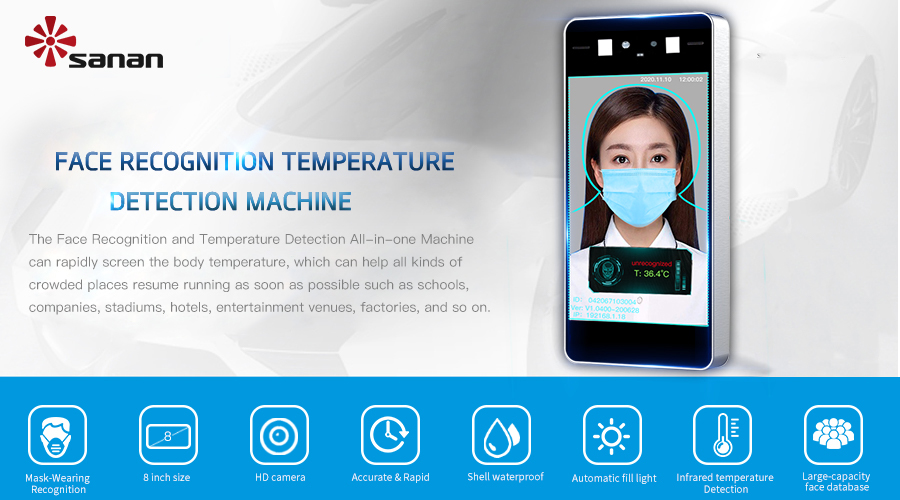 Product specifications
(Please check more details as attached)
Name: Face Recognition Thermometer
Display Screen: 8 inch LCD

Size: about 216x125x20mm
Weight: <1kg
Voltage: DC12V
Power: 5W
Working Temperature: -10°C ~50°C / 14°F~122°F
Working Humidity: 0%-90% RH (no condensation)
Installation ways: Hanging on the wall(door)/ Fixed to the bracket
Application occassions: offices, shools, stations, supermarkets, banks, hospitals, restaurant, entertainment places and public places...
Our special service: Local Language Customize(voice broadcast & screen display language)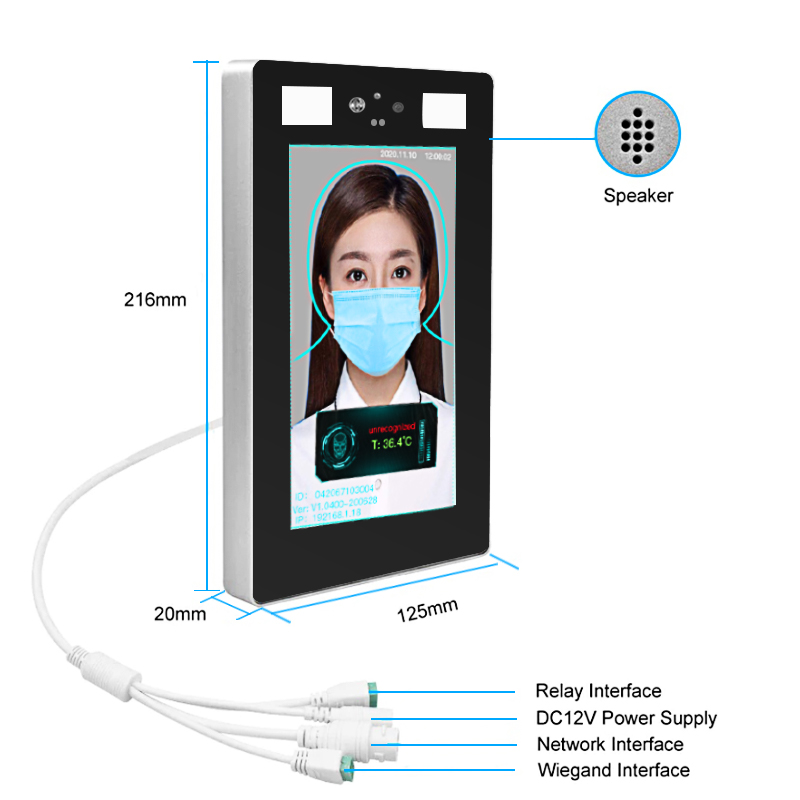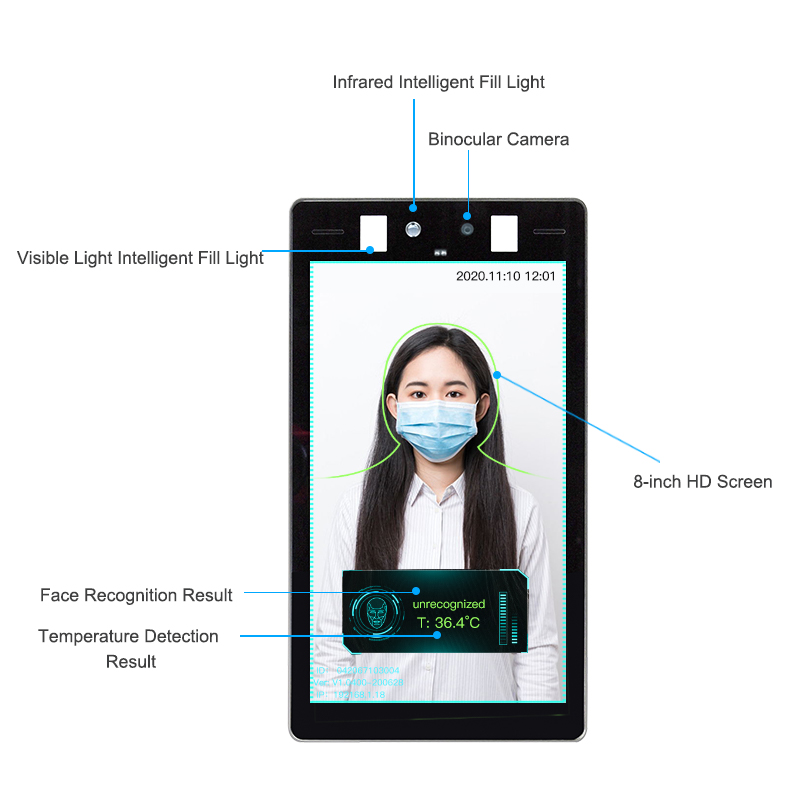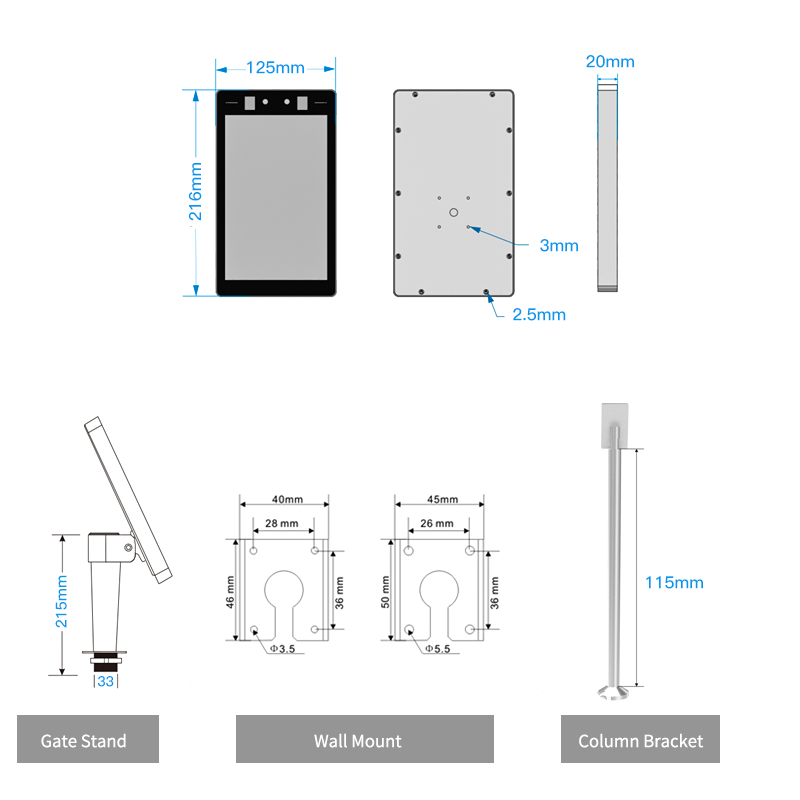 Product Features
1. Multifunction: AI face recognition+IR body temperature detection+live detection+snapshots and storage+mask recognition
2. High accuarcy: temperature detection range 35℃~42℃ / 95°F~108°F, accuracy ±0.3℃ / ±32.5°F
3. Large capacity of face database: 50,000pcs
4. Fast recognition: in 0.1s
5. 1080P 8-inch HD LCD display
6. Voice alarm
7. The ultra-thin all-metal housing in this field
8. Excellent environmental adaptability, adapt to the low light and strong backlight, support the automatic face exposure
9. Support the wiegand protocol, can directly drive access control, and control various gates
10. Rich hardware interface, integrated 100M ethernet port, audio interface, wiegand interface, relay interface, USB and so on
11. Excellent low illumination and Low power consumption
12. Linux software architecture is stable and reliable, easy to expand
13. Support the secondary development of equipment-side application software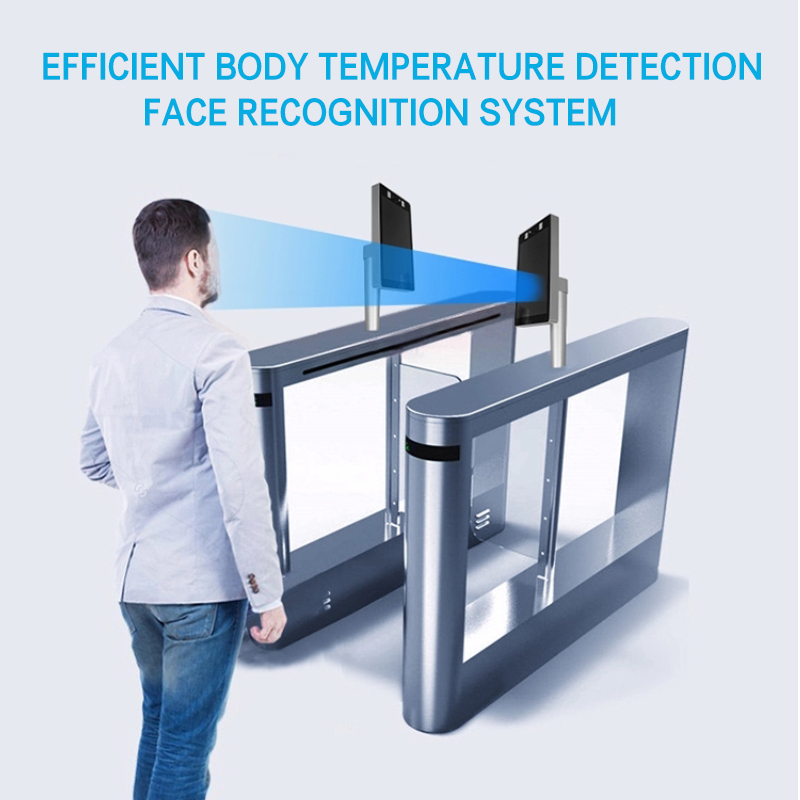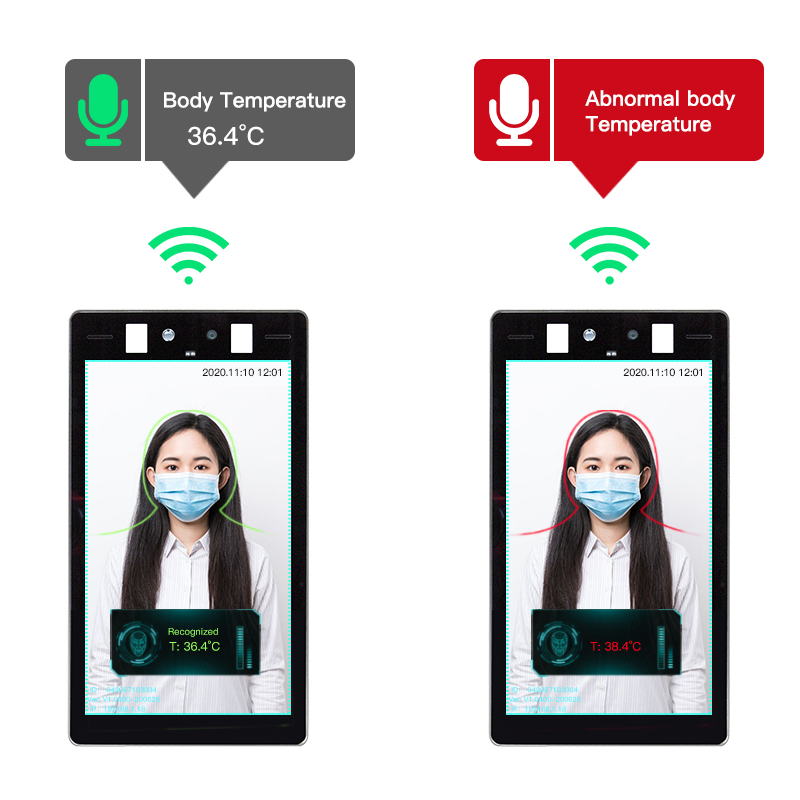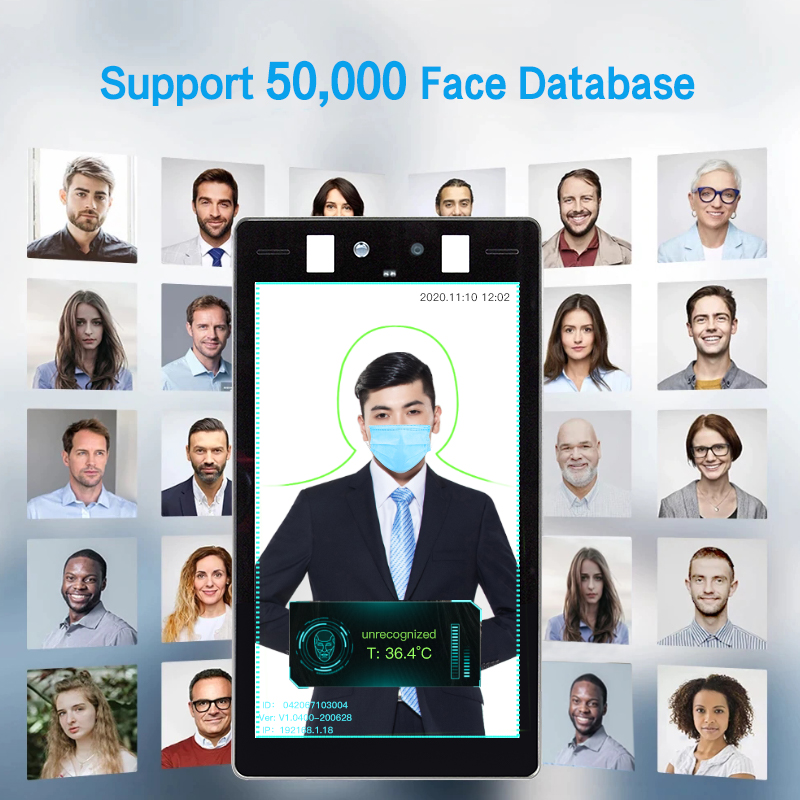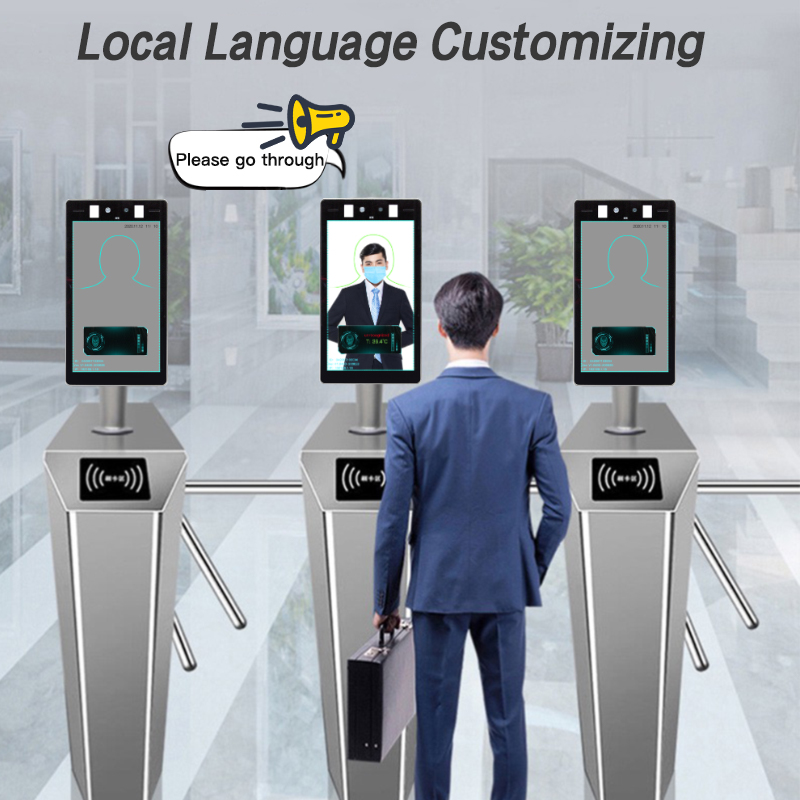 Product applications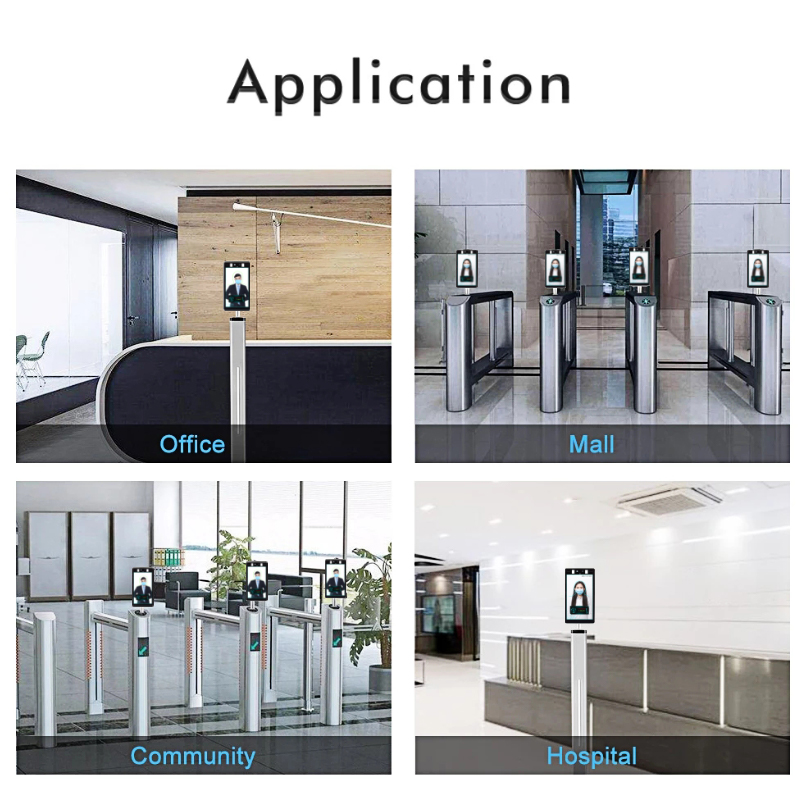 Attention please: this Face Recognition should not be installed at the places with the extreme temperature , which may make the detection result not accurate.